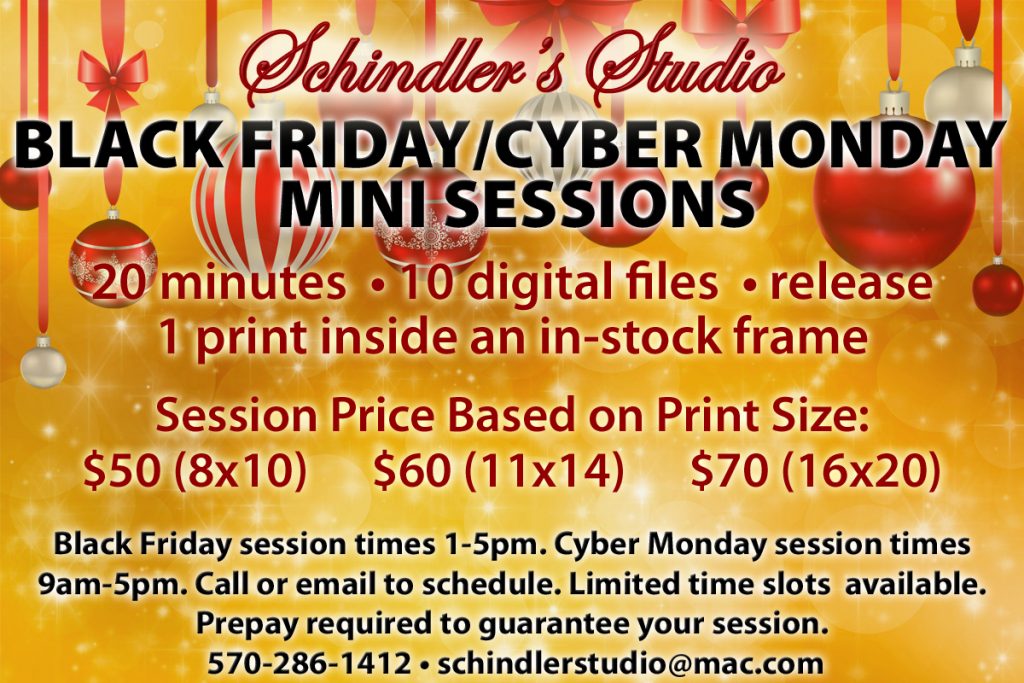 We will be holding our very first EVER BLACK FRIDAY sale!
Time slots are available to book NOW! Payment is required to book your session (this is to prevent cancellations no-shows).
The frame will be chosen by the studio and will be ready in a few days. So please don't expect to leave the studio with a frame. We want to edit and retouch your image so you walk away with a beautiful portrait. We will frame your portrait with glass, dust cover, and hanging hardware. When your order is complete we will call you and have your images, release, and frame ready to go home.
If you wish to make this a "Christmas theme" please bring your own props!!! We have plain backgrounds and can add color filters, but we do not keep a multitude of Christmas lights, bulbs, bears, presents, etc on hand. Indoor only. Booking is a first come, first serve basis. Pets and small children are welcome. If you want to change outfits, please remember these are mini sessions and a 20 minute timeframe should be respected for the next customer. If you think you will need a longer session please schedule 2 time slots back to back. Again, these sessions must be prepaid at the time of booking.
We will have cookies, coffee, tea and/or cocoa as refreshments!
Please call, email or Facebook message us to schedule your mini session.